. . . so here we were, the night before the test. To say that I was nervous, would be the understatement of the year.
I logged on to my computer and in my inbox was an email from our Evaluator, Lou. The email was an outline of what we should expect on test day, paperwork that we needed to bring, and a code of conduct for us to follow while in testing. And there was one line that made my heart jump into my throat: "The test starts as soon as you walk through the front door." We were used to having a few moments at the beginning of class to warm up and say hi to all of Chad's friends. So the thought of missing out on our practice time made me very nervous.
Looking for guidance, I texted our trainer, Jenn. Always one to give sage advice, Jenn texted back: "As long as our cute little Sassypants understands that YOU are calling the shots and not him, you should be fine. He just needs to focus!"
[vc_button url="https://phillyunleashed.dogbizpro.com/public/registration/index.aspx?tab=classes&schedule=196″ text="Sign Up for A CGC/TDI Class!" size="small" align="center" type="primary" outlined="1″ icon="" target="_blank"] 
I arrived at the studio a few minutes before the test was scheduled to begin, and many of the dog/handler teams had already checked in. Some of them we knew from class, others we had never met before. Knowing that Chad's biggest weakness is his love for meeting new friends, I was worried that he would be distracted around so many unfamiliar people and dogs. I began to warm Chad up with some basic obedience and focus exercises. Chad wanted so badly to meet the other dogs. . . and they wanted to meet him. But as Chad started to lose focus, I started to lose confidence.
We began the test. We moved right through the obedience portion. That is until we came to the final exercise in the TDI test. The Leave-it.
In the Leave-It portion of the
TDI
test, the evaluator tosses a couple of high-value treats down in front of the dog-handler team as they walk by. The handler is permitted to verbally cue the dog to "Leave-It". But at any point if the handler corrects the dog with the leash, physically restricts the dog from taking the treat, or if the dog takes the treat the team is eliminated from the test.
We had practiced. We were going to be ok. . . until the evaluator pulled out the treat that we were using: homemade beef jerky.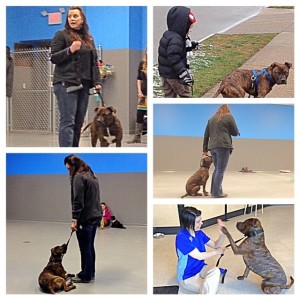 I mean seriously. Homemade beef jerky? I repeat HOMEMADE BEEF JERKY!!!
I knew we were in trouble.
One by one, the dogs walked by the temptation. (Did I mention that it was freakin' homemade beef jerky?) And now it was our turn. We started to heel to the center of the room. About 5 feet away from the treat, Chad looked up at me with that adorably naughty pit bull grin that so often precedes trouble, and he snatched up a mouthful of that delicious homemade beef jerky.
I felt awful, embarrassed, and defeated. Jenn and Lou asked me to stick around after the test. They congratulated me for coming so far with Chad, and encouraged me to continue training. Lou and Jenn both saw that Chad's demeanor and personality were meant for this kind of work . . . but his obedience needed a little polishing. On the drive home, I told myself that I was done with this. The dream was over. Chad and I were never going to be a therapy dog team.
Fast forward to a few weeks later, and the thought that Chad was meant to be a therapy dog kept nagging me. We started this journey, we had to finish it. Back to obedience class we go. . .
–by Chrissy Dampman
Did Chad and Chrissy go back to school? The final installment of this blog will be up in about a month!