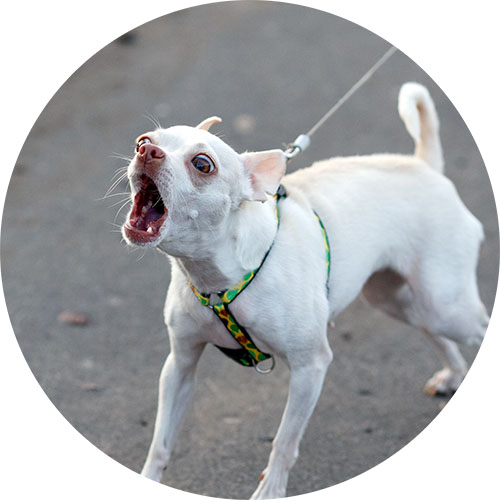 Leash Reactivity
If morning and evening walks have become more stressful than relaxing – for you and your pooch! – then steer your paws to Philly Unleashed.  If your dog is usually friendly, but acts like a maniac when on a leash, you are not alone. We have a great class specially meant to address leash reactivity: Dogs With Attitude.

Our Dogs With Attitude class is for dogs who are reactive toward other dogs while on leash. In this class, we teach how to cope with the stress of being around other dogs, management techniques for what to do when you see other dogs on walks, and a plan to work through it. The class starts in a low-stress way, where your dog has limited to no visibility of the other dogs in the room, and works to the point where they are comfortable in a room with other dogs. This class runs as a 7-week workshop. The first night of class is for humans only. We do this to go over safety, rules and expectations for the class, as well as assigning some exercises to practice at home before starting. To see if this class is a good fit for you, contact us today.

If your schedule does not allow for group classes or the behavior is severe, we also offer in-home private lessons with one of our professional trainers. During private lessons, we work on your specific training goals. These sessions take place in your home and our trainers are available on a flexible schedule including daytime, evenings and weekends. Contact us to schedule a lesson today.