You may have noticed that Philly Unleashed has been busy with a new project, training a service dog! To offer some background on this project, we present an interview with Philly Unleashed owner, Nicole Skeehan!
Written by Elizabeth Silverstein
—
While teaching a dog training class in 2016, Nicole Skeehan, owner of Philly Unleashed, noticed a young, black labrador. She's trained thousands of dogs over the past 20 years as a dog trainer, while developing training and behavioral programs for training facilities, shelters, prisons, rescues, and her own business.
But there was something special about Cooper's demeanor, work ethic, and intelligence. "I first watched him in classes," said Skeehan. "I thought, my lord, this is one of the nicest dogs I'd ever seen in my life."
Skeehan asked Cooper's owner, Katelin Jackman, to let her know if the breeder had another litter like him, knowing that she wanted to train and donate a mobility service dog. Buddha, Cooper's brother, joined the Philly Unleashed team in August 2017, and applications are being accepted until February 1 to find his partner.
Skeehan and her team of 11 trainers have trained other service dogs, including Queenie, an adult yellow labrador purchased by a Jersey Mike's fundraiser for a local family in 2016. Skeehan wanted to do it again, starting from the very beginning, with the goal of donating the trained mobility service dog to someone who needed one.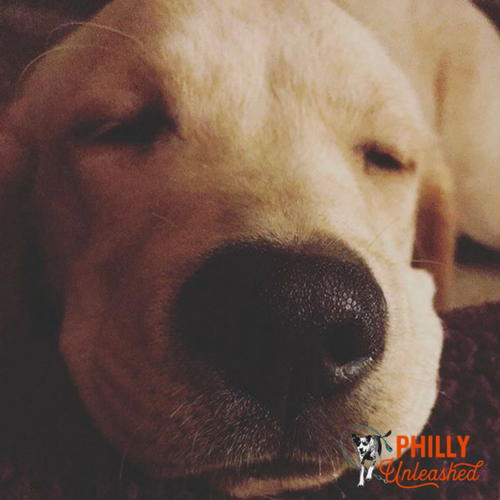 Skeehan found that taking on a service dog project was a natural fit after years of working for and with welfare organizations and shelters. "This was the perfect opportunity to give back to our community," said Skeehan. "We have the means and the staff to train a great dog, and we wanted to invite others to join us–whether financially or even just in helping us get the word out."
Growing up in Pittsburgh, Skeehan started training animals early–she took family dogs to obedience school, bought her own horse when she was 16, and earned extra money in college teaching riding lessons.
She started training Libby, a Great Dane and her first dog as an adult, at a high-end boarding and training facility. The owner noticed her work with Libby. "He asked me, 'Are you a dog trainer? Are you sure? Because you're really good at this,'" shared Skeehan.
Skeehan became the lead trainer for the facility in 2002, while finishing her degree, then moved onto Animal Friends, a Pittsburgh shelter, in 2006. The PSPCA recruited her in 2008 to build a behavior program in Philadelphia, and then she built the training program for New Leash on Life-USA while starting her business.
In 2015, Philly Unleashed won Best of Philly and added exclusive training opportunities for clients at Rammytime Farm in Medford, where Skeehan lives with her husband, Tim, her son, her dogs, Uluru and Porter, and a menagerie of donkeys, goats, and chickens. Now, Philly Unleashed has 11 trainers offering private lessons, behavior walks, group classes, and training at the farm.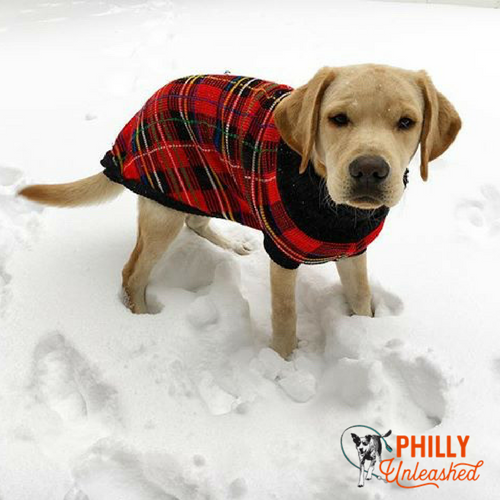 In March of 2017, Jackman told Skeehan there was another litter from Cooper's parents on the way at Hunters Run Labradors. Skeehan paid the deposit, and then a surprise hit–she found out she was pregnant. "I thought, oh man, I've got a puppy. I don't want a puppy if I'm pregnant," said Skeehan. "It was my staff and Katelin that convinced me to keep him and that we could do this. So we kept the plan in place and put the deposit down."
Skeehan had originally wanted a black puppy, like Cooper, but the breeder told her she needed to take a look at a little yellow one instead. Skeehan tested three puppies on responses to startling stimuli, tolerance for body handling and restraint, and prominence of toy and food drive.
The little yellow puppy was the smallest one, but Skeehan found him to be curious without being cautious and not sensitive to loud noises or new sensations. After a poll, Skeehan named the puppy Buddha and started an Instagram account, @BringingUpBuddha, to show his journey and training. "It's not as easy as slapping a vest on a dog and walking onto an airplane or into Walmart," said Skeehan. "Having a dog just be there is not good enough. It actually has to do things."
And Buddha works hard. He recently showed off his training at a Flyers game in December 2017, settling in for three hours and refusing to be distracted.  "I was so impressed with this little guy," said Dana Vachon, a certified trainer with Philly Unleashed who attended the game with Skeehan and Buddha. "Even when people were reaching out for him and trying to pet him, he stayed on task and focused. After the game, when his service vest came off, his puppy side came out while he spent time with the team."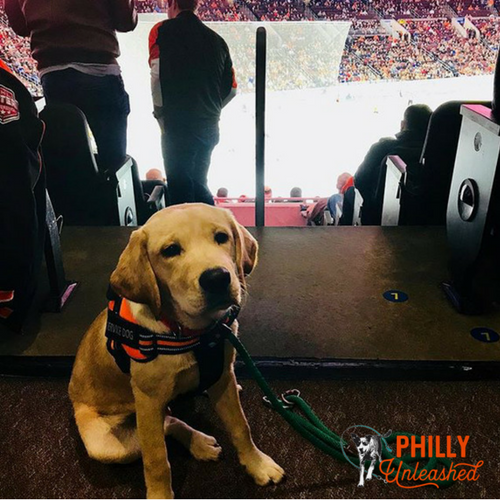 Now, Skeehan's baby is four months old, and Buddha is seven months old–and ready for his partner. Applicants are encouraged to apply online through Philly Unleashed's website until February 1, when interviews will start.
There is no cost for Buddha, as Philly Unleashed is providing all of the training, veterinarian needs, and food. To help offset costs, since Buddha's care and training will cost $30,000 over his lifetime, Philly Unleashed has created a GoFundMe page. All funds raised go towards Buddha and his care, and anything additional will go towards his person to get Buddha started on his new journey.
Buddha's partner will train with Buddha free of charge at the farm for six months to a year before full-time placement, and Philly Unleashed will sponsor lifetime training for the pair. "It's all about the relationship," said Skeehan. "That's the basis for Philly Unleashed–dogs can only come train at Farm Camp if they've been taking group or private classes, because we want to get to know them and their owners. We want to do the same with Buddha. We've built this relationship with him over the past five months, and we want to continue to build on that and include his partner."
Buddha is intended as a mobility service dog, and there are several stipulations for the right partner, but the recipient will not be charged for Buddha."My hope is he finds the right person, becomes a contributing member of society, and gets to be with someone who needs him," said Skeehan. "We're looking for somebody who is as invested in the success of the pair as we are. This should be someone who is willing to work at it. There will be valleys and peaks. Just because the dog is coming trained doesn't mean it will be easy. This person will need to be realistic what a dog can do and can't do, and will benefit in more ways than just being happier or less anxious generally. Buddha, with continued training, will help this person propel to success and be independent."
—
For more information, and to apply for Buddha, click here to visit his page! Also, follow his training journey on Instagram.