At Philly Unleashed we are proud to take a holistic approach to dog training. When you train with us, our goal is to take whatever time we have with you, whether it is a 1 hour private session, a 6-week group class, therapy dog training, or a second series of classes because you are having so much fun, and make you and your dog love training! With that said, we pride ourselves on being diverse enough to find an activity that both you and your dog will succeed at and have fun with.
Start making your dog the best that he can be right away by signing up for a class in Philadelphia or Newtown!
When we met Chrissy and her pit bull, Chad, we knew that they were something special. Watching Chrissy and Chad blossom during lessons, our trainer Jennifer Green started them on the path to becoming a Therapy Dog team.
We are now lucky enough to welcome Chrissy as a guest blogger for Philly Unleashed. In this blog series, she will share she and Chad's experiences as a Certified Therapy Dog team:
Chad was 9 weeks old when I met him.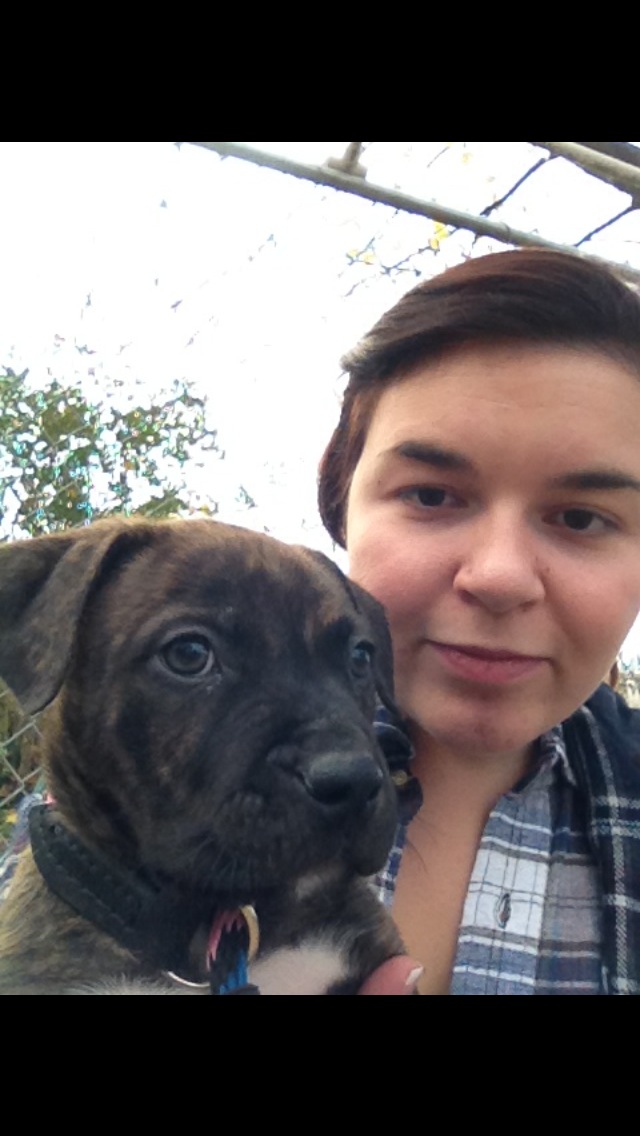 On a whim, my daughter and her friends stopped by the Delaware County SPCA in Media. They were instantly consumed with a litter of beautiful brindle pups; one stood out from all the rest. Minutes later, I received a text message with a picture attached saying, "Mom, I don't want you to be lonely when I move out. . . You need a dog!" A few hours later I was gazing into Chad's soulful puppy eyes. The decision was made. Chad joined our family that night.
Anticipating that Chad was going to be a big boy, I knew that we would need to start training early! And as we moved through the basics and graduated to advanced obedience work, I quickly realized the benefit that Chad's training was having. . . on me! All of the positive reinforcement training we were involved with was therapeutic. I had battled depression for years and found myself looking regularly to this puppy for comfort and love. Chad got me up, got me moving, made me laugh, and gave me a hobby. When I came home at night, he was eager to see me. Chad taught me to let go of negativity, and to find the positive side of a situation. And most importantly, he helped me to see the healing power of animals. As Chad and I grew together as a team, my confidence and self-esteem inflated. Chad had a gift that I wanted to share with others, but I was not sure where to start!
So I contacted Philly Unleashed for more information on next steps in training, and we were scheduled with Jennifer that week! After an evaluation, she agreed that Chad had the right personality for Therapy dog work. . . with a little more training of course!
A therapy dog is a specially trained animal intended to provide affection and comfort to patients in hospitals, residents in retirement communities and nursing facilities, students in school programs, and people dealing with stressful situations. A good therapy dog must be friendly, patient, confident, gentle, and relaxed in all situations. Therapy dogs must also enjoy human contact and be content with petting and handling, even when it is unsolicited. Their primary job is to allow unfamiliar people to make physical contact with them. In order to become a Therapy Dog, Chad and I would have to pass an evaluation that was equal parts a temperament test and a training demonstration. And so the real training began.
We enrolled in the 6-week Therapy Dog/Canine Good Citizen preparation course. This course covered everything on the test including sit, stay, leave-it, leash training, and so much more! Chad is a social guy and he had a very difficult time focusing in class with so many dog friends around. Seeing all the changes I needed to make, we went into full-fledged training mode! The Therapy Dog Test was a short 6-weeks away, and we were determined. We practiced in every new location we could find, the cashiers at PetSmart knew us by name, and Chad worked hard for every kibble he ate. Before we knew it the night before the test arrived. I was anxious. I wanted this so badly, but felt shaky on several exercises. Were we ready for this challenge?
Did Chad pass his test? Find out in our next blog in two weeks!